Investing in foster children and foster families to unleash compassion, hope and dignity
We are thankful to be part of a church that takes the initiative to help kids who've experienced trauma. The time and effort put in by the adults surrounding these children gives them the safety they deserve in their church community. – Ashley & Nate Tingley
The Foster Care Ministry at Rose Drive Friends Church helps us to feel supported and loved as we care for the little ones in our home. We are grateful for a church that embraces our kids wholeheartedly! – Kaitlyn & Matthew Tingley
Foster care is pretty messy, and it's been filled with messy, complex emotions. Still, our family was moved to venture down this path and dive head first into a journey with other foster families. The road is long and challenging, but we have a God who never grows weary. God is close to the brokenhearted, and He has given so much strength to my family and to the numerous families at Rose Drive who have embarked on this path. We know very well that we can't save them all, we can't even save the two we are fostering now – but, for a day, or for 300 days, we can provide a stable home for them to heal, to flourish. In our home, we can bring the good news that is the gospel to two broken boys, a broken foster care system, and a broken family. Our God has kindly reminded us that we too need a Savior, just as the foster boys do whom we sing and pray to sleep. – Andy and Jen Smith
---
UPCOMING EVENTS: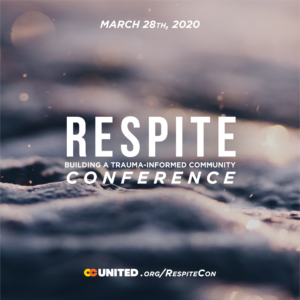 RESPITE: BUILDING A TRAUMA-INFORMED COMMUNITY CONFERENCE
Saturday, March 28 | 9 AM-6 PM | $25 with code | Center Bldg
What would happen in our homes, our schools, our workplaces, and our places of worship if we were more equipped to serve those who have experienced trauma?
Respite: Building a Trauma-Informed Community Conference is a conference where you will learn more about the impacts of trauma through an informative and interactive day of training with education, resources, and tools that will equip you and your environment to serve the most vulnerable among us. The day will include main sessions, tailored breakouts, and community connections that will provide opportunities to discover the most effective and impactful ways to combat and overcome the harm of trauma and adverse childhood experiences. Together, we can heal our community! For more info, please visit www.ocunited.org/respitecon
Must use promo code RDF2020Partner
---
ONGOING:
The Foster Closet
Foster children are often placed in new homes with very few of their own clothes and toys. The Foster Closet seeks to help foster families with donations of basic necessities and is a place where foster parents can receive appropriate clothes, toys, diapers, bedding, and more!
Current foster parents, we would love for you to come shopping! The Foster Closet is free to current foster families. On your first visit, please bring a copy or picture of your current Resource Family license. Foster families are welcome to shop the closet once a month. You will receive a certain number of "points" to shop per child in your care each visit. If you have gently used items to donate back to other families, we welcome those donations.

Foster Closet Hours:
 – By appointment. Please contact us at fostercloset@rdf.org.
***The Foster Closet is located on the west side of the nursery building, facing the lunch tables and just north of the playground. We suggest parking in the Bastanchury parking lot.***
If you are interested in volunteering with the foster closet, please contact us at fostercloset@rdf.org.
Click HERE to see a list of items to donate. Donations are accepted on the patio on Sundays or the church office during the week.

OC United
OC United is a non-profit in Fullerton focused on unleashing compassion and empowering the vulnerable. You can get involved with foster care through OC United in many different ways! Click HERE for more info.
---
Do you have ideas on how we can partner with foster families? Are you interested in participating in supporting foster families, being a foster parent or more? Contact Mandi Pettikas at mandip@rdf.org for more info.