---
I was born and lived in Orange, CA for the majority of my life. I have been married to my beautiful wife, Kristin, for one year and we reside in Brea. I graduated from Biola University in 2018 with a B.A. in Rhetorical/Interpersonal Communication and a Minor in Biblical/Theological Studies. The Holy Spirit has interwoven a deep desire to love and reach junior highers for the Kingdom. I love sports of ALL kinds, and have played basketball my whole life! If you were to observe my wife and me for a weekend, you would find us playing basketball, hanging out with our friends or family, enjoying a well-written TV show, or having a dance party to our favorite tunes. I am thrilled and grateful that God has brought my wife and me to Rose Drive to serve you amazing people and this wonderful community; I look forward to meeting you!
---
7-8:30 PM | JHM Room

Jump in with nights of fun group games, praise band worship, LifeGroups,
and dive into good discussions with LifeGroup leaders!

9-10:15 AM | JHM Room

Engage in fun, energetic games together as a group, an in-depth message, and a time for the students to reflect with worship and prayer.
New to JHM? Watch this!
---
Download the Spring calendar HERE
JHM DISCO DANCE PARTY
Sunday, January 19 |  5:30-8 PM | $10/student
Wear your best disco or 80s dance workout costume as we jump and jive to the latest hits. Enjoy a professional DJ, hangz with friends, and a rad community of believers! Invite your friends!! The funds raised for this event will go towards camp scholarships! Food provided (SO much pizza!)
---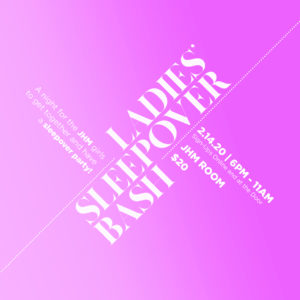 JHM LADIES' SLEEPOVER BASH
Friday, February 14 – Saturday, February 15 | 6 PM-11 AM | JHM Room | $20
It's a sleepover party!!! Ladies will be hanging in the JHM room playing games, watching movies, and eating food. Drop-off and pick-up at Rose Drive. (Students can be picked up earlier if necessary).
(Cost covers t-shirt and food)
---
JHM MAN NIGHT
Friday, February 14 | 6-9 PM | Camelot | $20
Fellas will be heading to Camelot Golfland for a night of hangz, arcade games, and fun vibes! Drop-off and pick-up at Rose Drive.
Cost: $20 (Cost covers t-shirt and arcade tokens)
---
JHM CAR RALLY
Wednesday, March 18 | 7-8:30 PM | Free
Get your racing face on as you and your LifeGroup find the wildest, weirdest, and most epic items to take pictures with in the OC. Invite your friends!
---
JHM OYON (ON YOUR OWN NIGHT)
Wednesday, April 1 | 7-8:30 PM | Free
No youth group this night. Instead, enjoy a night of hangz with your own LifeGroup! Each group will be meeting in a different place. Details will be sent out by Pastor Grant. Invite your friends!
---
LOVE PLACENTIA
Saturday, April 25 | 8 AM-1 PM
We will be combining forces with the Love Placentia team to serve our community as Christ first served us. More details to follow! Invite your friends!
---
JHM BROOMBALL BOOGEY
Wednesday, May 13 | 7-9 PM | $20 | KHS Ice Arena
Come on out for a night on the ice as we slip-n-slide at KHS Ice Arena. Bring your friends for an epic night filled with laughter, hilarious ice fails, and wonderfully good time.
---
---
Important Links:
Junior High 2019-2020 Medical Release Form
---
Contact Us!
Grant Herbold, Junior High Pastor
GrantH@rdf.org
Student Ministry Team:
Craig Davis, Pastor
CraigD@rdf.org
Mandi Pettikas, Pastor
MandiP@rdf.org