---
I was born and lived in Orange, CA for the majority of my life. I am married to my beautiful wife, Kristin, we are the proud parents of baby Ezra, and we reside in Brea. I graduated from Biola University in 2018 with a B.A. in Rhetorical/Interpersonal Communication and a Minor in Biblical/Theological Studies. The Holy Spirit has interwoven a deep desire to love and reach junior highers for the Kingdom. I love sports of ALL kinds, and have played basketball my whole life! If you were to observe my wife and me for a weekend, you would find us playing basketball, hanging out with our friends or family, enjoying a well-written TV show, or having a dance party to our favorite tunes. I am thrilled and grateful that God has brought my wife and me to Rose Drive to serve you amazing people and this wonderful community; I look forward to meeting you!
---
7-8:30 PM | Meet in the JHM Room (E012)
Jump in with Wednesday Night Alpha Life Groups!
We will be exploring life and purpose at Alpha: a safe place to learn, grow, and connect together. Bring a Bible.

10:30 AM | JHM Room (E012)
Jump in with Sunday Mornings!
We're gathering to engage in life together, connect, and experience the power of God's Word. Bring a Bible.
September:
JHM Alpha Youth Kickoff
Wednesday, September 15 | 7-8:30 PM | Meet @ the Gym, then JHM Room
What is truth? Great question. We will be exploring life and purpose at Alpha: a safe place to learn, grow, and connect together. We will be engaging with the Alpha curriculum for the first several weeks of LifeGroups. Bring a Bible, water, & friends.
ALPHA Food Volunteer Sign Up
Please bring the food to the JHM Room @ 6:30 PM. Food will be for both JHM and HSM.
---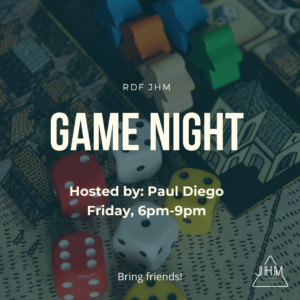 JHM Game Night
Friday, September 17 | 6-9 PM | JHM Room
Come play board games, videogames, karaoke, and much more as our JHM Game Nights start back up! Bring friends and enjoy some good vibes! Our amazing LifeGroup leader, Paul, runs these. Bring: good vibes and water bottles. Questions? Contact Paul at (714) 737-4371.
---
JHM Girls Sleepover
Friday, September 24-Saturday, September 25 | 8 PM-10 AM | JHM Room
Our awesome JHM Female Leaders are hosting a girls sleepover! Watch movies, have snacks, and some good ol' fun! Bring: sleeping bag, pillow, toiletries, and comfy clothes.
Email Pastor Grant for additional information about upcoming events.
---
---
Important Links:
Junior High 2021-2022 Medical Release Form
---
Contact Us!
Grant Herbold, Junior High Pastor
GrantH@rdf.org
Student Ministry Team:
Craig Davis, Pastor
CraigD@rdf.org
Mandi Pettikas, Pastor
MandiP@rdf.org