Café Brio will be open Wednesday nights this fall!
Wednesdays, September 6-November 15 | 5:30-8:15 PM
Stop by for great coffee, Wi-Fi and a place to connect.
Look for the orange doors, across from the main Sanctuary.
---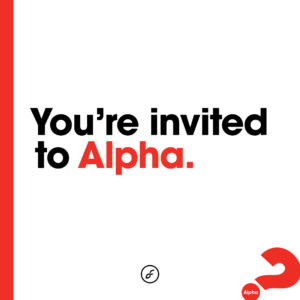 ALPHA: Exploring Questions About Christianity
Wednesdays, September 20-November 15 | 6:30-8 PM | Conference Room | Free
Alpha is a place to connect with other people who are open to exploring life, faith, and meaning. Each session will begin with a simple dinner along with a time to engage in honest conversations. You'll hear a short talk centered around questions of the Christian faith and then have a chance for each person to share questions, doubts, and thoughts with the group. Come meet new people, find a place to belong, and discover a safe place to ask tough questions. There is no obligation to say anything and no question will be out of bounds. All perspectives are welcome. Please register below to reserve your spot! Feel free to jump in any time! Email Craig Davis at CraigD@rdf.org for additional information.
---
MIDWEEK BIBLE STUDY – Zoom (Coed, all ages)
Wednesdays | 7:30-8:30 PM | Zoom
Whether you have read the Bible 100 times or exploring it for the first time, this study is for you! Each week stands alone, so sign up any time! Click the button below to register and receive the Zoom Meeting ID. Email CraigD@rdf.org for additional info.

---
STUDENTS (6th-12th grade)
In September, our fall Wednesday night Youth Group structure will kick into full gear! Doors will open at 6:30 PM; the program will run from 7-8:30 PM. Wednesday nights will be loaded with a café, lots of time to hang out, gym games, worship, teaching, and life groups! We start a little after 7 PM, but the doors will open and the café will be running at 6:30 PM for students to make full use of the youth rooms! Come see our newly renovated rooms! Questions? Contact Grant Morgan at GrantM@rdf.org. (Please visit rdf.org/students for August details.)
---
WOMEN'S CHRISTMAS CRAFT NIGHT
Wednesday, November 8 | 6:30-8 PM | Center Bldg. | Cost $10
Join us for a fun evening of creativity and connection as we make easy paper angels and intricate-looking paper bag 3D snowflakes. No prior crafting experience needed! Bring your enthusiasm and your favorite pair of scissors for cutting paper and get ready to take home your handcrafted masterpieces to adorn your home this Christmas season. Let's craft and chat at this special event. Register now to secure your spot for a night of crafty fun! Spots are limited.