JOURNEY OF THE SOUL FALL GROUPS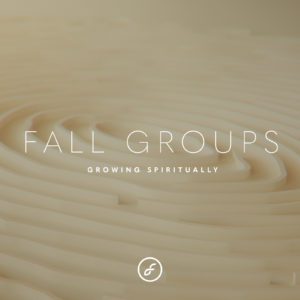 In person: Sundays, September 19 – October 24 | 4:30 PM
Online: Tuesdays, September 21 – October 26 | 7:30 PM
Grow spiritually in a fall group experience that connects with our GROW message series! We want everyone at Rose Drive Friends Church to experience spiritual growth! If you aren't already involved in a Life Group, new groups are forming! Journey of the Soul Fall Groups are a tremendous opportunity to connect and grow in your faith. Based on the book Journey of the Soul by Bill and Kristi Gaultiere, this six-week group experience, facilitated by Pastor Craig Davis, is helpful to anyone looking for a new understanding of spiritual growth.  Journey of the Soul books can be purchased in advance for $12 on Amazon or will be also be available for purchase on the Patio on Sunday morning, September 12. Click HERE to register.
---
CARE GROUPS
Sundays, 4-6 PM | On campus
We offer five weekly Sunday Care Groups: DivorceCare, GriefShare, Single & Parenting, Life's Healing Choices, and Emotional Wellness. Visit rdf.org/care for details and to register, or email Soulcare@rdf.org with questions about DivorceCare, GriefShare, Single & Parenting, Life's Healing Choices, and Emotional Wellness.
---
HOLY YOGA
Sundays, 6-7 PM | $50/session for six classes | JHM Room (E012)
Next Session: October 10 – November 14 
Holy Yoga is back! Relax, breathe, and stretch in an atmosphere of serenity and scripture. Holy Yoga is an opportunity to meditate on God's word, deepen our relationship with Him, and bring both body and spirit into alignment. All men and women (age 14+) are welcome, regardless of physical abilities. Please bring a yoga mat and water bottle, and dress comfortably. Limited spots available. Pick one or both sessions at registration.
---

FOOD MINISTRY
Wednesdays 4-5 PM and Saturdays 8:30-9:30 AM
Our Food Pantry will continue to be open regular hours. Click HERE for additional information. If you would like to donate non-perishable, non-expired items to help us feed those who are struggling, food can be dropped off during Food Pantry hours or at bins located just outside the Sanctuary doors, or shop our Amazon Wish List from the comfort of your home.
---

To learn more about additional ministry opportunities, events, and ways to connect, please subscribe to our weekly eNewsletter. 
---
WEEKLY CALENDAR:
MONDAY 9/20
8:00 pm – Adult Rec Basketball, Gym
TUESDAY 9/21
7:30 pm – Journey of the Soul Fall Groups, Zoom
WEDNESDAY 9/22
9:30 am – Rejoyce Women's Bible Study, Center Bldg.
4:00-5:00 pm – Food Pantry Open
7:00 pm – JHM Wednesday Nights, JHM Room
7:00 pm – HSM Wednesday Nights, HSM Room
FRIDAY 9/24
9:00 am – MOPS, Center Bldg.
SATURDAY 9/25
8:30-9:30 am – Food Pantry Open
SUNDAY 9/26
9:00 & 10:30 am – In-person and Livestreamed Worship Services, Sanctuary, Patio, rdf.org/live and Facebook Live
9:00 & 10:30 am – RDFkidz Programming (Nursery-5th grade)
10:30 am – JHM (Junior High) Sunday Mornings, E012 (JHM Room)
10:30 am – HSM (High School) Sunday Refocus, E001 (HSM Room)
4:00 pm – GriefShare, DivorceCare, and Single & Parenting
4:30 pm – Journey of the Soul Fall Groups, Fireside Room
6:00 pm – Holy Yoga, E012 (JHM Room)
"An inherent risk of exposure to COVID-19 exists in any public place where people are present. COVID-19 is an extremely contagious disease that can lead to severe illness and death. By attending any Rose Drive Friends Church sponsored events, you voluntarily assume all risks related to exposure to COVID-19."