SANCTUARY WORK DAY 
Sunday, March 1 | Noon-4 PM | Light lunch provided
On Sunday, March 1, after church, we're having a Sanctuary work day. We'll be prepping the pews for removal by removing all of the Bibles, hymnals, and cards. This could be a quick project for anyone right after church. We will also begin unbolting and removing the pews from the ground and loading them onto a truck to be headed to Mexico. A light lunch will be served. We'd love your help! RSVP on the button below or Sunday at Guest Central.

---
MAN NIGHT BBQ with special guest Jake Olson
Sunday, March 8 | 6-7:30 PM | Center Bldg. | $10 suggested donation
It's a Man Night with plenty of food! Join us for a Man Night BBQ and guest speaker Jake Olson, blind USC longsnapper. Jake has confronted many challenges and setbacks but has remained strong through his faith in God. All males 14+ won't want to miss this inspiring and motivating night! Please RSVP for the BBQ dinner by clicking HERE.
---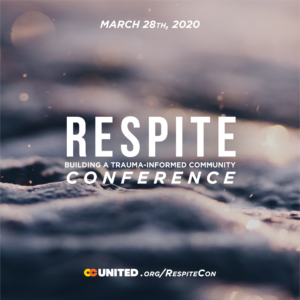 RESPITE: BUILDING A TRAUMA-INFORMED COMMUNITY CONFERENCE
Saturday, March 28 | 9 AM-6 PM | $25 with code | Center Bldg
Learn more about the impacts of trauma through this interactive day of training which will equip you to serve the most vulnerable among us. Discover the most effective and impactful ways to combat and overcome the harm of trauma and adverse childhood experiences.
For more info, click HERE. Must use promo code RDF2020Partner
---
HOLY YOGA
Six weekly sessions begin Sunday, February 9 | 6:30-7:30 PM | $12/session | Jr High Room (E012)
Through meditation, movement, and breathing, Holy Yoga is an opportunity to meditate on God's word, deepen our relationship with Him, and bring both body and spirit into alignment. All men and women (age 14+) are welcome, regardless of physical abilities. Register at rdf.org/adults, or, $12 cash/session at the event.
---
NEW CARE GROUPS
GriefShare, DivorceCare, and Single & Parenting
Sundays, February 9 – May 31 | 4-6 PM | $29 workbook
Care Groups gather to provide hope, growth, healing, and recovery. GriefShare offers a place to meet people who understand the pain after losing a loved one. Single & Parenting offers a safe space with other single parents to develop meaningful and supportive relationships. DivorceCare offers help and healing during the wake of a divorce.  It's not too late to attend. Click HERE to learn more and to register.
---
GLOBAL OUTREACH DINNER
Saturday, March 7| 5:30 PM | Center Bldg. | Cost $10/adults, $5/youth
Come dine with us as we celebrate the work that God has done through global outreach while hearing from Kenn and Lisa Dirrim who are on the forefront of the refugee crisis in Greece. Tickets are only $10 for adults and $5 for students in grades 6-12. Please RSVP below or purchase your tickets Sunday mornings on the patio.

---
ART COLLECTIVE
Artists are invited to exhibit their original pieces as representations of our Easter celebration, Stations of the Cross. This event, Good Friday to Easter Sunday, will feature a gallery of visual art media. For more information or to register your interest as an artist, click HERE.
---
SEAHORSE INDOOR SOCCER

This developmental spring league is for boys and girls from 1st through 6th grade. All players will be trained in soccer skills by licensed and trained Christian coaches with soccer experience. Everyone plays, sportsmanship is promoted, and biblical lessons are provided as part of the curriculum. All practices and games will take place in the Rose Drive Friends Church gymnasium. Cost $150. For additional information, click HERE. Registration closes March 1.
---
PRIMETIME LUNCHEON (60+)
Thursday, March 5 | 11:30 AM | Center Bldg. | $8
Please join us for our monthly luncheon, featuring guest speakers Kenn and Lisa Dirrim, missionaries in Greece who will share about their work with the refugees from the Middle East. Sign up by Monday, March 2, in the Discoverers Class, at the Guest Central tent on Sundays, or by calling the Church Office. Please remember to bring paper goods for HIS House.
---
WEEKLY eNEWSLETTER
To learn more about our many exciting ministry opportunities and events, you can subscribe to our bi-monthly eNewsletter by clicking here!
CHURCH FAMILY NEWS
To see what's going on with our church family and our community, please visit our new COMMUNITY NEWS page!
---
WEEKLY CALENDAR:
SATURDAY, 2/29
9:00-10:00 am – Food Pantry Open
SUNDAY 3/1
9:00 am – JHM & HSM Connect (E102, E001)
10:00 am – Community Connection time, Patio
10:15 am – RDFkidz Check-in begins
10:30 am – One Worship Service, Sanctuary
1:00-4:00 pm – Sanctuary Work Day, Sanctuary
4:00 pm – GriefShare, DivorceCare, Single & Parenting Care Groups, Center Bldg.
6:30 pm – Holy Yoga, Jr High Room (E012)
MONDAY, 3/2
8:00 pm – Open Gym, Gym
TUESDAY, 3/3
6:30 am – Pray for our Church, Bangarang Room
9:15 am – Renewed Bible Study, Center Bldg.
7:00 pm – Overcomers Outreach (Christian 12-step program), Choir Room
WEDNESDAY, 3/4
9:30 am – ReJOYce Bible Study, Center Bldg.
4:00-5:00 pm – Food Pantry Open
6:15 pm – Women's Devotional/Journaling, E104
6:30 pm – Wednesday Night Prayer Meeting, Prayer Room (A110)
7:00 pm – JHM LifeGroups, JHM Room (E012)
7:00 pm – HSM Wednesday Gathering, HSM Room (E001)
7:00 pm – Renewed Nights Bible Study, D108
THURSDAY, 3/5
11:30 am – PrimeTime Luncheon, Center Bldg.
FRIDAY, 3/6
9:00 am – MOPS, Center Bldg.
SATURDAY, 3/7
9:00-10:00 am – Food Pantry Open
5:30 pm – Global Outreach Dinner, Center Bldg.
SUNDAY 3/8
9:00 am – JHM & HSM Connect (E102, E001)
10:00 am – Community Connection time, Patio
10:15 am – RDFkidz Check-in begins
10:30 am – One Worship Service, Sanctuary
4:00 pm – GriefShare, DivorceCare, Single & Parenting Care Groups, Center Bldg.
6:00 pm – Man Night BBQ with Jake Olson, Center Bldg.
6:30 pm – Holy Yoga, Jr High Room (E012)