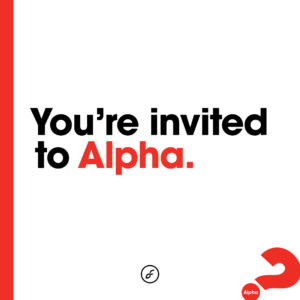 ALPHA: Exploring Questions About Christianity
Wednesdays, September 20-November 15 | 6:30-8 PM | Center Bldg., E110 | Free
Alpha is a place to connect with other people who are open to exploring life, faith, and meaning. Each session will begin with a simple dinner along with a time to engage in honest conversations. You'll hear a short talk centered around questions of the Christian faith and then have a chance for each person to share questions, doubts, and thoughts with the group. Come meet new people, find a place to belong, and discover a safe place to ask tough questions.  Please register below to reserve your spot! Feel free to jump in any time! Email Craig Davis at CraigD@rdf.org for additional information.
---
PIZZA WITH A PASTOR
Sunday, September 24 | 11:45 AM | Café Brio 
Are you newer to Rose Drive Friends Church? If so, we'd love to treat you and your family to lunch! At this casual and fun opportunity, you'll meet some of our pastors, church staff and leaders, and find ways to get connected here! Meet us in Café Brio, look for the orange doors, across from the main Sanctuary patio. We're excited to get to know you better! Questions? Contact Kristen at KristenR@rdf.org.
---
UPWARD BASKETBALL – For 1st-6th Grade Boys and 1st-7th Grade Girls
December 2023 – February 2024 | $195 
Upward Basketball is for families seeking a league that develops the total athlete mentally, athletically, spiritually, and socially. The winter season will include 10 weeks of practice with 8 games. No experience is necessary! All teams will practice and play games in the Rose Drive Friends Gymnasium (4221 Rose Drive, YL). Click the button below for additional details and to register. Spots are limited.

---
The Sabbath Practice Growth Group
Mondays, October 2-23 | 7-8:15 PM | C113 | Free
Join Pastor Craig Davis in a transformative four-week journey to connect with others and deepen your understanding of the Sabbath, an ancient way to find rest for your soul. This open group is designed for anyone looking for a small group experience centered on practicing the Sabbath. Using the new resource, The Sabbath Practice by Practicing the Way, we'll explore how the Sabbath can help us slow down and connect with God in a hyper-busy world. Don't miss this opportunity to build meaningful connection, reflect and grow. Feel free to drop in and join us for any or all four weeks.
To learn more about additional ministry opportunities, events, and ways to connect, please subscribe to our weekly eNewsletter. 
---
WEEKLY CALENDAR:
MONDAY, 9/18
8:00 pm – Open Gym, Gym
TUESDAY, 9/19
10:00 am – Renewed Bible Study, D108
WEDNESDAY, 9/20
9:30 am – ReJOYce Bible Study, Center Bldg.
4:00 pm – Food Ministry Distribution, Center Bldg.
5:30 – 8:15 pm – Café Brio open
6:30 pm – Alpha, Center Bldg. (E110)
7:00 pm – STM Wednesday Nights, Youth Rooms (doors open at 6:30 pm)
7:30 pm – Midweek Bible Study, Zoom
THURSDAY, 9/21
6:30 pm – Women's Evening Bible Study, Café Brio
FRIDAY, 9/22
9:00 am – MOPS (Mothers of Preschoolers), Center Bldg.
6:00 pm – STM Game Night, Youth Rooms
SATURDAY, 9/23
8:30 am – Food Ministry Distribution, Center Bldg.
2:00 pm – Bridal Shower for Cassie Barajas, Café Brio
SUNDAY, 9/24
9 and 10:30 am – Worship Services, In-person and Livestreamed, Sanctuary, Patio, rdf.org/live
9 and 10:30 am – RDFkidz Programming (Nursery-5th grade)
10:30 am – Student Ministries (STM) Sunday Gathering, Youth Rooms (E001, 012)
11:45 am – Pizza With a Pastor, Café Brio
An inherent risk of exposure to COVID-19 exists in any public place where people are present. COVID-19 is an extremely contagious disease that can lead to severe illness and death. By attending any Rose Drive Friends Church sponsored events, you voluntarily assume all risks related to exposure to COVID-19.