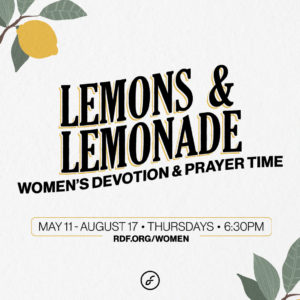 Lemons and Lemonade: Women's Devotion & Prayer Time
Thursdays, May 11-August 17* | 6:30-8 PM | Café Brio
Join us as we gather to take time to focus on how God works in our lives—both in the highs and the lows. We'll have an informal time to chat about the ups and downs of our lives, a short devotional, and end with a time of prayer for one another. No registration needed. Questions? Contact Sandee Venegas at SandeeV@rdf.org. (*No meeting on 6/1 due to Craft Night.)
---
Summer Spiritual Growth Group
Mondays, May 29 – June 26 | 7-8 PM | Free | Meet in the Sanctuary Lobby 
Join Pastor Craig Davis in a transformative five-week journey to connect with others and deepen your faith. This open group is designed for anyone looking for a summer small group experience centered on spiritual formation. Using the new resource, The Prayer Practice by Practicing the Way, we will explore different aspects of prayer each week: Talking to God, Talking with God, Listening to God, Being with God, and Keep Praying. Don't miss this opportunity to build meaningful connection, reflect and grow. Feel free to drop in and join us for any or all weeks.

---
G.O.A.T. 2023 VBS VOLUNTEERS
Join our G.O.A.T #BestWeekofTheYear Volunteer Team this summer and help us make an impact on kids in our community. We are currently accepting (incoming 2023) High School and Adult Leaders.* Register to help by clicking on the button below. All volunteers must attend a VBS training meeting on Sunday, June 4, at 1PM in the Rose Drive Sanctuary.
*Incoming Junior High (6-8th grade) students must email Pastor Andy Smith to have an interview at Andys@rdf.org.
---
To learn more about additional ministry opportunities, events, and ways to connect, please subscribe to our weekly eNewsletter. 
---
WEEKLY CALENDAR:
MONDAY 5/29
Church Office Closed
7:00 pm – Summer Spiritual Growth Group, Sanctuary Entry 
8:00 pm – Adult Basketball, Gym
WEDNESDAY, 5/31
4:00 pm – Food Ministry Distribution, Center Bldg.
7:00 pm – STM Video Competition, Youth Rooms
7:30 pm – Midweek Bible Study, Zoom
THURSDAY, 6/1
11:30 am- PrimeTime Luncheon, Center Bldg.
6:30 pm – Women's Craft Night, Center Bldg.
SATURDAY, 6/3
8:30 am – Food Ministry Distribution, Center Bldg.
SUNDAY, 6/4
9 and 10:30 am – Worship Services, In-person and Livestreamed, Sanctuary, Patio, rdf.org/live
9 and 10:30 am – RDFkidz Programming (Nursery-5th grade)
10:30 am – Student Ministries (STM) Sunday Gathering, Youth Rooms (E001, 012)
1:00 pm – G.O.A.T. VBS Training Mtg., Sanctuary
1:30 pm – STM Movie: Spiderman, Regal Theatre
An inherent risk of exposure to COVID-19 exists in any public place where people are present. COVID-19 is an extremely contagious disease that can lead to severe illness and death. By attending any Rose Drive Friends Church sponsored events, you voluntarily assume all risks related to exposure to COVID-19.