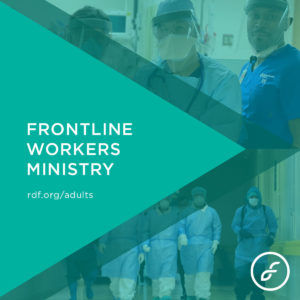 FRONTLINE WORKERS MINISTRY
Help us support and encourage the healthcare workers at Placentia-Linda Hospital as well as the healthcare workers who attend Rose Drive Friends Church. Sign up to help provide gifts of food, notes of encouragement, and prayer support for all of these frontline workers by clicking HERE or email Anne Asch at anneasch@gmail.com for additional information.
---
CARE GROUPS:
Sundays | 4-6 PM | Zoom | $15 workbook fee
Find help and healing for the hurt of separation and divorce; a group of people who will walk alongside you through one of life's most difficult experiences – grief; or share tips and parenting wisdom that will help you find rest, hope and encouragement. There is a Care Group for you! $15 cost includes workbook.
---
Emotional Wellness:
Sundays | 4-6 PM | Zoom | $20.49 book includes shipping
Living with anxiety, depression, and other mental health difficulties and disorders can be exhausting and confusing. Join facilitator, Kayla Walkemeyer, ASW, for a small group using the resource Living Grace, where you will learn to empower yourself to reduce symptoms, increase your well-being, and rest in God's grace. Each attender will need to order their own copy of the Living Grace book – ordering details will be provided with registration.
---
FOOD MINISTRY
Wednesdays 4-5 PM** and Saturdays 8:30-10 AM
Our Food Pantry will continue to remain open regular hours with drive-thru service from the Rose Drive parking lot. If you would like to donate non-perishable, non-expired items to help us feed those who are struggling, food can be dropped off during Food Pantry hours or at bins located just outside the Sanctuary doors, or shop our Amazon Wish List from the comfort of your home.
** Please, DO NOT arrive earlier than 3:45 PM. To limit both traffic congestion and contact between people, clients will be politely asked to leave & return at 3:45 PM.
---
MOPS (Mothers of Preschoolers)
Mondays, beginning March 8 |  7-9:30 PM | $30
MOPS is great place for moms who are pregnant, in the adoption process, or have kids (Infant – PreK). Get together with moms who share a similar desire to be the very best they can be and take time to rejuvenate and renew yourself. Visit rdf.org/mops for additional information and to register.
---
FOSTER PARENT CONNECTION
Mondays, March 15, April 12, May 10, June 14 | 8-9 PM | Zoom
Foster Parent Connection is an online group of foster and adoptive parents encouraging one another on the journey. Join us once a month for a time of encouragement, training, support and connection! During these crazy days we want give you an hour to recharge as you pour into the children in your life. Register HERE for the Zoom link. Questions, contact Mandi Pettikas at MandiP@rdf.org.
---

To learn more about additional ministry opportunities, events, and ways to connect, please subscribe to our weekly eNewsletter. 
---
WEEKLY CALENDAR:
MONDAY 2/22
8:00 pm – The Marriage Course, Zoom
WEDNESDAY 2/24
4:00-5:00 pm – Food Pantry Open – Drive thru (Rose Drive parking lot)
7:00 pm – JHM Wednesday Nights (On Your Own Night), JHM Room
7:00 pm – HSM Wednesday Night Recharge, HSM Room
SATURDAY 2/27
8:30-10:00 am – Food Pantry Open – Drive thru (Rose Drive parking lot)
9:00 am – Foster Closet Sidewalk Sale, Patio
SUNDAY 2/28
9:00 & 10:30 am – Live-streamed Worship Service, rdf.org/live and Facebook Live
10:30 am – Worship Service, Patio
10:30 am – RDFkidz Programming (Nursery-5th grade)
10:30 am – JHM Sunday Mornings, JHM Room
10:30 am – HSM Sunday Refocus, HSM Room
11:45 am – JHM Camp Fundraising Workshop, JHM Room
4:00 pm – DivorceCare, GriefShare, Single & Parenting, Emotional Wellness, Zoom
"An inherent risk of exposure to COVID-19 exists in any public place where people are present. COVID-19 is an extremely contagious disease that can lead to severe illness and death. By attending any Rose Drive Friends Church sponsored events, you voluntarily assume all risks related to exposure to COVID-19."