Fall Women's Bible Studies:
Renewed Bible Study
Tuesdays, September 12-December 12 | 10-11:30 AM | D108 | $15, includes workbook
Join us for a study on Melissa Spoelstra's book Acts: Awakening to Glory in Everyday Life, as we learn how to become more aware of God's presence and activity in our everyday lives. This study, for women of all ages, will alternate every other week between video teaching and group discussion and is full of wise and uplifting women. Come join us for a time of encouragement. No childcare provided. (No meeting on November 21.) Questions? Please email Laura Prickett at Laurasp@sbcglobal.net

ReJOYce Bible Study
Wednesdays, September 13 – May 8, January 3 – May 8 | 9:30-11:30 AM | Center Bldg. | $65 (includes Lessons (Sept-May), materials, and childcare)
ReJOYce is the perfect place to dive into God's word, chat, laugh, and connect with other women. This fall, lessons will start with a study in Hebrews and then a "Highlights of the New Testament." In the spring, we'll continue in the New Testament and end with a study in 1 Thessalonians. Teachers will change weekly. ReJOYce is open to all women and childcare will be available for infants through Pre-K. Questions? Please email Deann Tingley at deann@rstcs.com. (Luncheons on 10/11, 12/13, 2/7, and 5/8. No meeting on 11/22, 12/20, 12/27, and 4/3.)

Women's Thursday Evening Bible Study: God Has a Name
Thursdays, September 21 – November 9 | 6:30 PM | Café Brio | Free
Grab a copy of John Mark Comer's book, God Has a Name, and join us for an 8-week Bible study like no other. We'll embark on an enlightening adventure and gain insights that will reshape our understanding of God and ourselves. Let's grow together and discover the magnificence of our God and His profound impact on our lives. See you there! Questions? Contact Anne Asch at AnneA@rdf.org.


---
Women's Christmas Craft Night
Wednesday, November 8 | 6:30-8 PM | Center Bldg. | Cost $10
Join us for a fun evening of creativity and connection as we make easy paper angels and intricate-looking paper bag 3D snowflakes. No prior crafting experience needed! Bring your enthusiasm and your favorite pair of scissors for cutting paper and get ready to take home your handcrafted masterpieces to adorn your home this Christmas season. Let's craft and chat at this special event. Register now to secure your spot for a night of crafty fun! Spots are limited.
---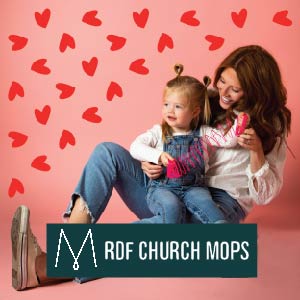 MOPS – Mothers of Preschoolers | Every other Friday, beginning September 8 | 9-11 AM | Center Bldg. | $75 Mom, $45/child
MOPS is great place for moms who are pregnant, in the adoption process, or have kids (Infant – PreK). Enjoy a delicious breakfast, get a chance to meet and/or catch up with other moms who understand and relate to the daily life of motherhood, and hear great speakers who will inspire and motivate you. Come laugh and unwind with us! Please click the button below for additional details. Please note that registration has closed and is full!
---
For additional information about Women's Ministries, please contact Anne Asch at AnneA@rdf.org.