RDFkidz is where it's AT! We teach and mentor kids to love God, love who God created them to be, and love people. We go BIG and bring your kids Bible teaching on their LEVEL with activities that are LEGIT and speak directly to them. To accomplish this, we have some of the best volunteers on the PLANET! I'm serious. BTW, most kids BEG their parents to come back to RDFkidz because Sundays are the best days of the week here.+_
---
Andy Smith is husband, father and a gospel ninja! Before joining the staff at RDFchurch, Andy served as Executive, Next Gen, High School, Junior High and Children's pastor at three different churches in the southern Orange County Area. Andy has a "different" kind of DNA, you might say. He has to be around kids, around students, around people! He is constantly moving and seems to be everywhere at the same time! Andy, his wife, and three kids live not two minutes away from the church, where they enjoy no traffic, an INSANE addiction to USC and Denver Broncos football…and of course, the LA Lakers!
---
We divide our ministry into three separate environments so that we can engage your child at his or her level:
NURSERY
10:30 AM (check-in begins at 10:15 AM)

On Sunday morning the nursery is divided into two age groups: Birth – 23 months and 2 years – 35 months. The Nursery is located on the first floor near the main courtyard. For those parents who wish to keep their little ones with them, we provide a special place called the Parent Room in the Worship Center (Main Sanctuary.)

PRESCHOOL (PREPPY K – KINDERGARTEN)
10:30 AM (check-in begins at 10:15 AM)
Our Preschool programming is for children 3 years old through Kindergarten. Each class provides a Bible story from TRU Curriculum and entertaining and relevant activities, drama, as well as playtime in our playground! Yes, we have GOALS in our RDF Preschool program — to help preschoolers build a solid spiritual foundation through songs, stories, and a variety of learning experiences.
ELEMENTARY SCHOOL (1ST – 5TH)
10:30 AM | Bangarang Room (check-in begins at 10:15 AM)
If your kid is anywhere in 1st through 5th grade THIS…IS…THE…PLACE…TO BE! Our Teaching team is OFF THE CHARTS phenomenal; their engagement with your kid and the gospel is what sets us apart. And, the love we have for you kids in unrivaled, while we have the MOST FUN EVER doing what we do!
---

5th GRADE MONDAY NIGHT HANGS
Mon, Jan 27 | 6:30-7:45 PM | Drop off & Pick up at Nikki's Kitchen
What better way to red bull your week then with 30 of your closest 5th grade friends, Pastor Andy, K-Dub, and the rest of the gang! Bring your CA$H and let's HANG! *Parents, drop off and pick up at Nikki's Kitchen (5091 Richfield Rd Suite B, Yorba Linda, CA 92886)
---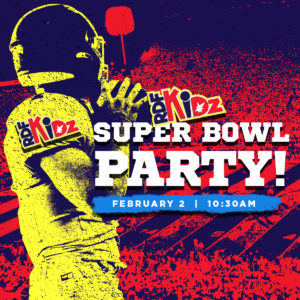 SUPER BOWL PARTY
Sun, Feb 2 |  10:30 AM | Bangarang Room
Pizza, soda, games and more. Wear your favorite football shirt or jersey and bring a friend.
Pastor Andy will give short message.
---
RDFkidz VBS (aka the #BESTWEEKOFTHEYEAR)
June 15-19 (Monday-Friday) | 9 AM – 12 PM | $40/child | Kindergarten – 6th grade
RDFkidz VBS (aka the #BESTWEEKOFTHEYEAR) is a week-long, half-day, summer camp experience! We'll have a water day, inflatables, crazy field games, legit crafts and games, and awesome worship led by a phenomenally stellar band! Get ready for the best week of the year!
Click HERE for more information and to register. Spots are limited.
---

---
At RDFchurch, child (and baby) dedications are a BIG DEAL for us. We see it as an expression of a parent's desire to have their church family partner with them to raise Godly children. We want to support you as you walk in that massive calling. As a church, we consider it an honor, a HUGE honor, that you would want us to be a part of this incredible privilege.
Want to dedicate your child or learn more about child dedications? Here are your next steps:
Child Dedication will take place on Sunday, April 19, at 10:30 AM.
A prerequisite class will be held for all new parents on Sunday, April 5, at 11:45 AM in the Nursery.
To register for Child Dedication, please click HERE.
Questions? Contact our RDFkidz Director kariw@rdf.org.

Our Children's Pastor, Andy Smith, will call you to answer any other questions you might have.

You will be writing a letter to your child. Pastor Andy will email you and discuss what that letter will look like.
RDFkidz baptisms are a life-changing experience for your kids, your family, and our church.
Want your child to experience baptism? Here are your next steps:
Contact our Children's Pastor andys@rdf.org to find out the next date for our baptism class and interview for your child. The interview is a very brief and natural way for us to talk with your child about baptism, and help you determine if they are ready to be baptized.

We will then send you home with a Baptism "Parent Guide" for you to go through with your child.

If you have any other questions regarding RDFkidz baptisms, please reach out to our RDFkidz Director Kari Wallace at kariw@rdf.org.
---
RDFkidz Staff:
Kari Wallace




Assistant Director of NextGen

Sandee Venegas




Preschool Director

Chandra Riemer




Director of Nursery,

Midweek & Moppets

Sign up to Volunteer with RDFkidz!




Click the icon above to get started!



---
Important Links:
RDFkidz 2019-2020 Medical Release Form
---