The Rose Drive Friends Church Food Ministry exists to fight hunger in our community in Jesus' name. Through generous donations from our church family, local supermarkets, and Second Harvest Food Bank we are able to serve hundreds of people and families a month.
Pantry Hours:
Wednesdays from 4:00-5:00 PM
Saturdays from 8:30-9:30 AM**
Distribution is located in E104-105 on the ground level of the Clocktower Building.
** The Food Pantry will be closed Saturday, December 25, for Christmas Day & Saturday, January 1, for New Year's Day. 
In order to have a fair and inclusive method for distribution, we distribute food through a lottery system. Plan to be present 5 minutes before the distribution opens to draw a random number as your position for entrance on each day. Because of this system, there is no need to arrive way ahead of time to secure earliest entry into the distribution line.
A person from each household must be present. You cannot pick up for other households. Please bring your own grocery bags for your food.

---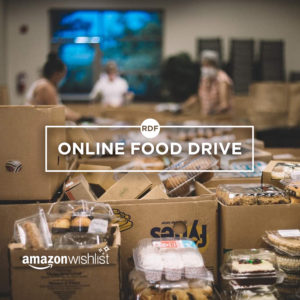 To donate non-perishable food, please place any non-expired, non-perishable items in the bins just outside the Sanctuary or shop our Amazon Wish List from the comfort of your home. Simply, click the link, pick out the food you'd like to donate, and have it delivered to the church.
The most needed items are cereal, rice, canned vegetables, fruit and beans, snacks, dry potatoes, dry beans, canned meat, macaroni and cheese, pasta, ramen, and peanut butter. Thank you for helping us feed our neighbors!
Volunteer: If you are interested in volunteering, please contact Mandi Pettikas at MandiP@rdf.org for more information.